SHUT UP! SEE ART! for Art Sheffield
Site Gallery, UK
2015 - 2016

Shut Up! See Art! Was a co-created weekend of activity, made with the Young People's collective, Society of Explorers for Art Sheffield 2016. I produced this programme between 2015 - 2016 in my role, Young People's Programme Manager.
www.sitegallery.org/projects/young-producers-programme/

Shut Up! See Art! was projected artworks, young people led tours, digital workshops, film screenings and experimental music performances.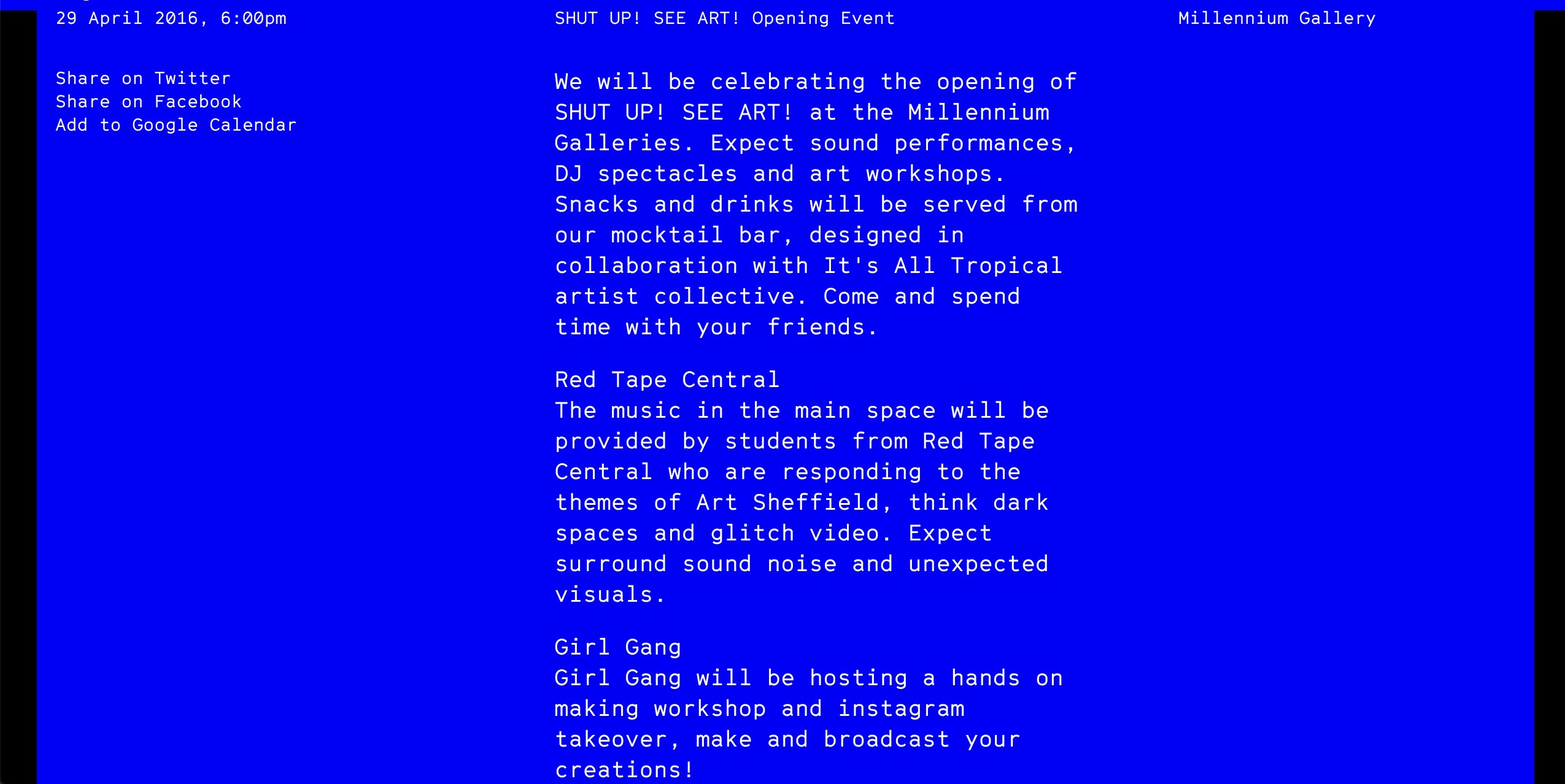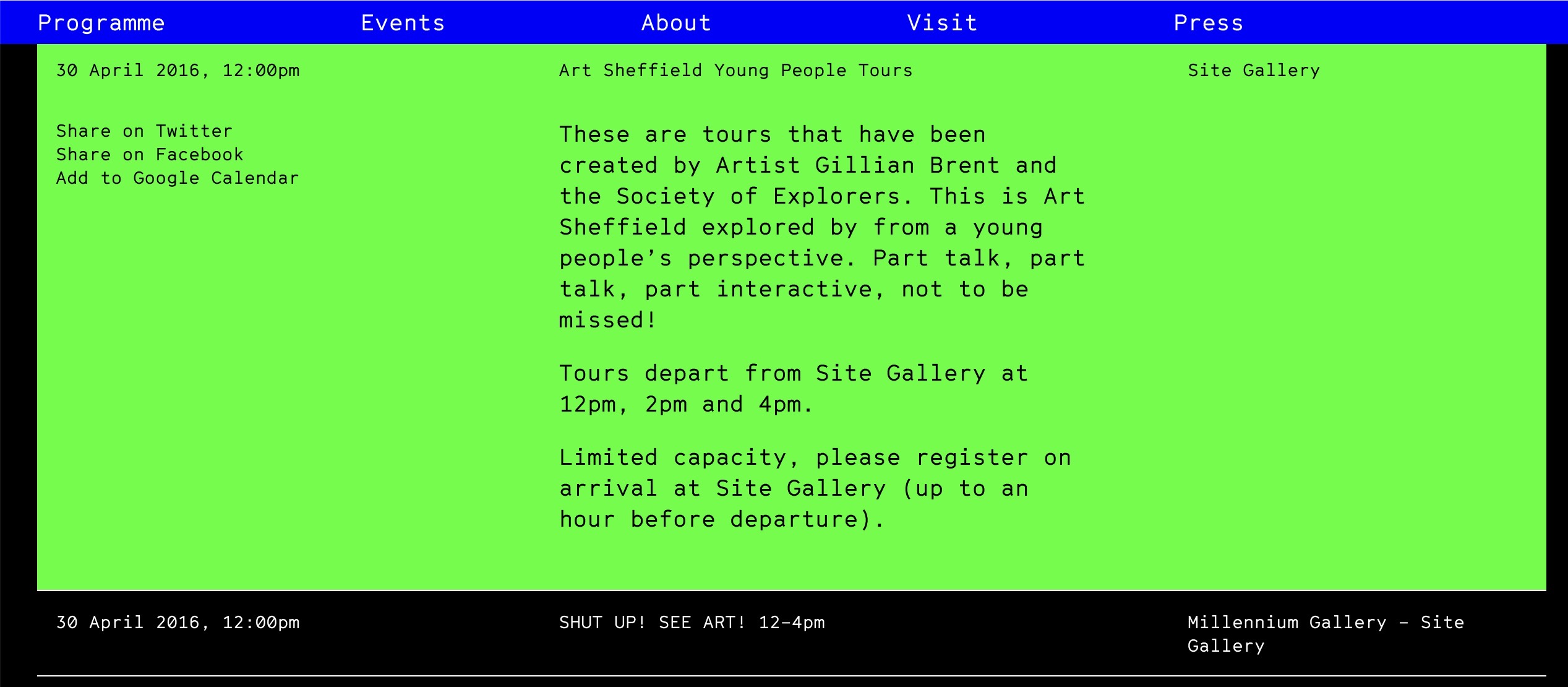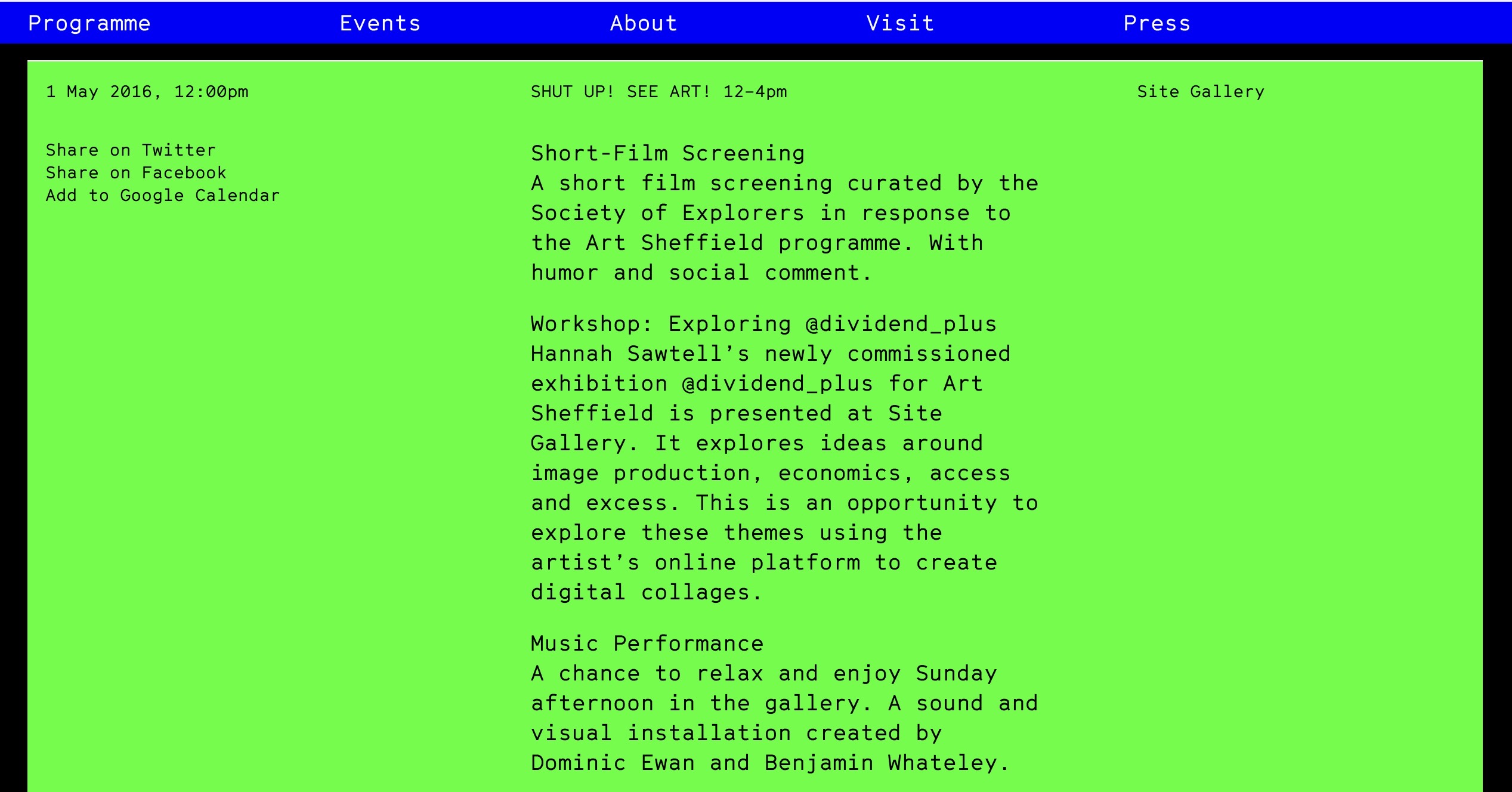 About Art Sheffield 2016:

Up, Down, Top, Bottom, Strange and Charm

16 April – 8 May 2016

Preview: Friday 15 April, 2–8pm

Marie Angeletti | Charles Atlas | Michel Auder | Anna Barham | Steven Claydon | Mark Fell | Beatrice Gibso| Pat Hearn and Shelley Lake | Florian Hecker | Hannah Sawtell | Richard Sides | Paul Sietsema | Scratch video works by George Barber, Nick Cope, Jeffrey Hinton, Duvet Brothers,
John Scarlett Davis, Gorilla Tapes, John Maybury, Kim Flitcroft & Sandra Goldbacher

Art Sheffield 2016 is a citywide contemporary art event, curated this year by Martin Clark, Director of Bergen Kunsthall, Norway. It takes as its starting point the political, social, cultural, and material histories of the city of Sheffield, enacted and explored through a carefully selected group of international video, film and sound works, as well as three major new commissions made especially for the exhibition by three British artists. The title of the exhibition, Up, Down, Top, Bottom, Strange and Charm is taken from the six flavours (or types) of quark: the elementary particles that make up every atom, and the fundamental building blocks of matter.

The festival is conceived as an 'exploded' group show, dispersed across the city's streets and spaces. All of the works are moving image or sound, and the fabric of the city itself is very explicitly activated and inhabited by the exhibition. Each artist occupies a single, separate location, with the physical journey between each venue and work forming an intrinsic part of the experience of the show. Sheffield's various histories are alluded to, but only in order to address more universal, fundamental, as well as personal, themes. The city's material histories – built around steel, manufacturing and industry – are evoked in the exhibition through the rapidly disappearing architecture of Victorian works and industrial buildings, as well as the show's engagement with the economic, social and cultural climate that these industries produced, particularly during their decline in the 1980s and the Thatcherite politics that accelerated it.

The political and economic realities of that time – defined by the assault on industry and the trade unions, the cold war and nuclear threat, and the boom and bust of a rapidly accelerating global capitalism – coincided with the availability of new video editing facilities in art schools across th UK, the art school at Psalter Lane in Sheffield being a significant example. This led to a number of artists and musicians experimenting with the emergent technology in very politically engaged ways, developing new visual languages and techniques, one of which was 'scratch video'.

Often this work was screened outside of a gallery context, in clubs or music venues, or made as visuals for bands including Cabaret Voltaire, Test Department and The Human League. Art Sheffield include a number of these rarely seen 'scratch' videos, by early pioneers including Jeffrey Hinton, George Barber and Nick Cope. Directly sampling and subverting found footage from TV, films, advertising and popular culture, they anticipate many of the methodologies and aesthetics now ubiquitous across the internet. More contemporary works, as well as the new commissions, draw on and extend a number of these ideas, which politically and aesthetically feel just as timely and urgent today. The subatomic, elemental reality of materials and matter is central to the show; experimental music becomes analogous to new economic models and patterns of risk, chance and improvisation; Sheffield's long history of resistance, socialism and independence is reactivated through a proposal for a new 'people's currency'; while video, film and sound are explored in their myriad materialities and manifestations, as on one hand a mechanical, digital, or virtual object or medium, and on the other a kind of collective unconscious, dream or reverie. In this way the exhibition is both framed by, and assimilated into, the city – a place defined as much by its cultural production as it is by its material industry; by individuals and communities as much as infrastructure and architecture; a construction and a fantasy that is constantly being reproduced and reinvented – projected back out onto itself by the various forces, desires, processes and people that both inhabit and imagine it.

The Art Sheffield Festival is a city-wide contemporary art event led by a consortium of art venues including Bloc Projects, Museums Sheffield, S1 Artspace, Sheffield Hallam University and Site Gallery. Launching in 2003, the Art Sheffield festivals have included over 107 of the most successful artists working today, including 5 Turner Prize winners as well as over 40 exciting Sheffield-based artists in both the exhibition and fringe. The festivals take place across Sheffield's vibrant arts venues and in a range of exciting, unusual spaces of architectural, cultural and historic significance, relating to the unique context of the city and region. Previous festivals have been curated by Annie Fletcher & Frederique Bergholz (2010, Life: A User's Manual), Jan Verwoert (2008, Yes, No and Other Options), and Gavin Wade (2005, Spectator T). In between festivals, Art Sheffield provides a guide to contemporary visual arts across Sheffield, bringing you information on the latest exhibitions, events and opportunities taking place across the city.