CONSTELLATIONS
Flat Time House & Up Projects
2020 - 2021
http://flattimeho.org.uk/projects/education/constellations-202021/

Constellations is an alternative development programme for artists who work in social and political contexts. Due to the Covid-19 pandemic, our workshops and meetings were held online between March 2020 - March 2021.

'Context is half the work' -
documentation of a process -

The first half of the programme was facilitated by a series of artists and practitioners invited by the commissioners, before the second half was handed to us, 9 artists from across the UK - to navigate our own peer learning.

We explored ways to share practice through screens - utilising; dance, movement, walking, talking, writing and play: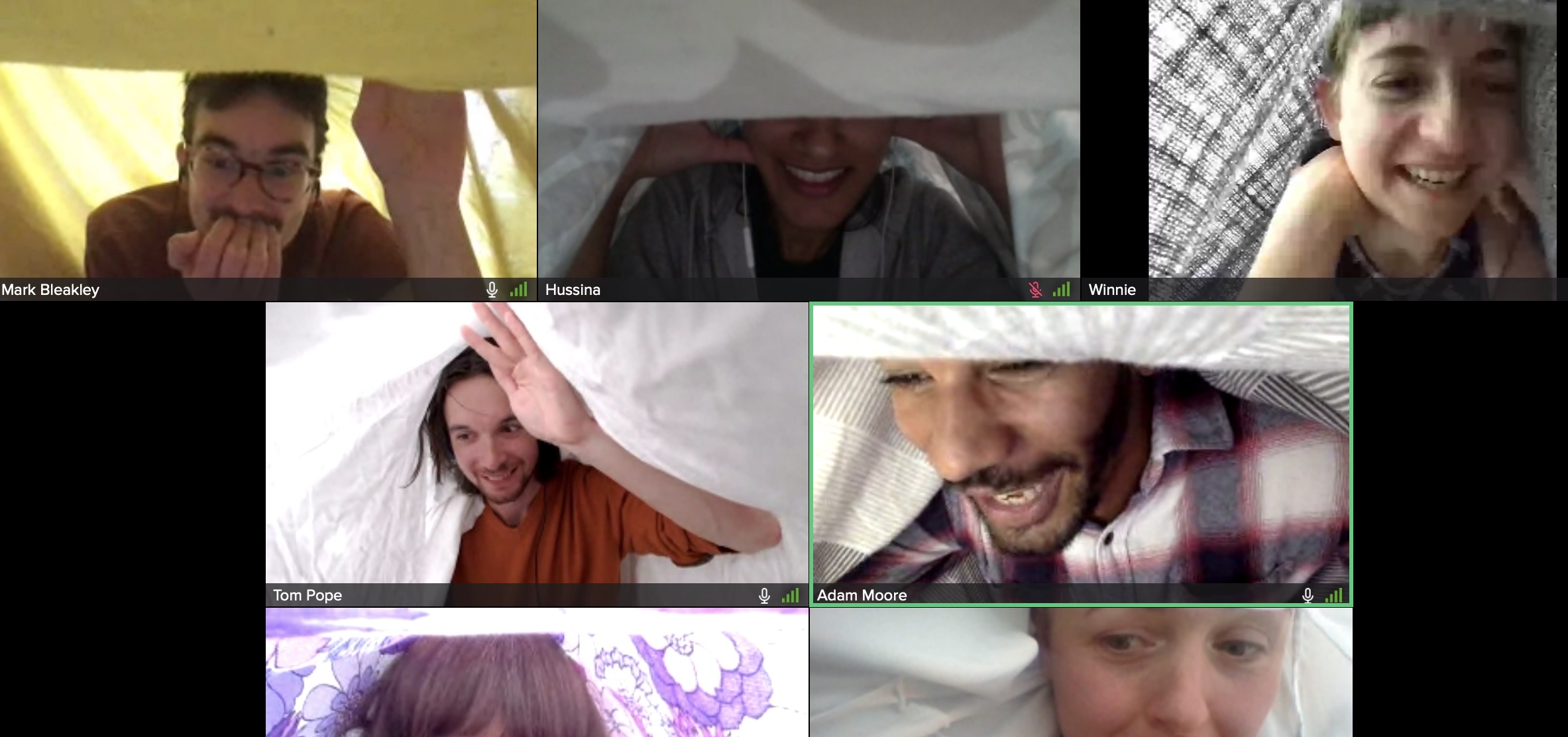 workshop images

We each provided prompts such as 'If photography was a sport, what would the rules be?' - designed as a way to build our relationship as collaborators alongside an attempt to understand how our working methodologies could adapt to the new context we found ourselves in.

My prompt was to ask each artist to design a five minute walk for another - these explorations included walking without touching the floor, becoming a statue every fifty steps, touching the floor with your hands during your walk and taking a walk guided by your sense of smell. We reflected upon how important the physicality of moving has become to our increasingly sendentary lifestyles, especially where daylong video calls become a kind of endurance test.

The second half of the programme was handed over to us to lead as peers, with an aim to present a digital public outcome as part of Flat Time House & Up Projects' programme.

This part of the process was complicated and complex, we still had some work to do in order to understand each other, our working practices and motivations. We held long discussions, hours at a time, considering what we might like to present as an 'outcome' and why. We questioned the context we were working in, as unpaid artists on a development programme, some of us felt that the presentation of a public outcome was a pressure, others that it was a platform and a priviledge that we shouldn't overlook.

We were also challenged as a group at this point as one person decided to withdraw from the programme - this brought us into a deep reflection - how does this affect the community we are building? Should we proceed?

My thoughts are that at this stage what held us together was the investment we had all made in each other, we had created a genuine intimate and supportive environment that we could lean into - being open and honest with each other about what we hoped for and what we needed in this moment, meant that we could effectively work through our differences.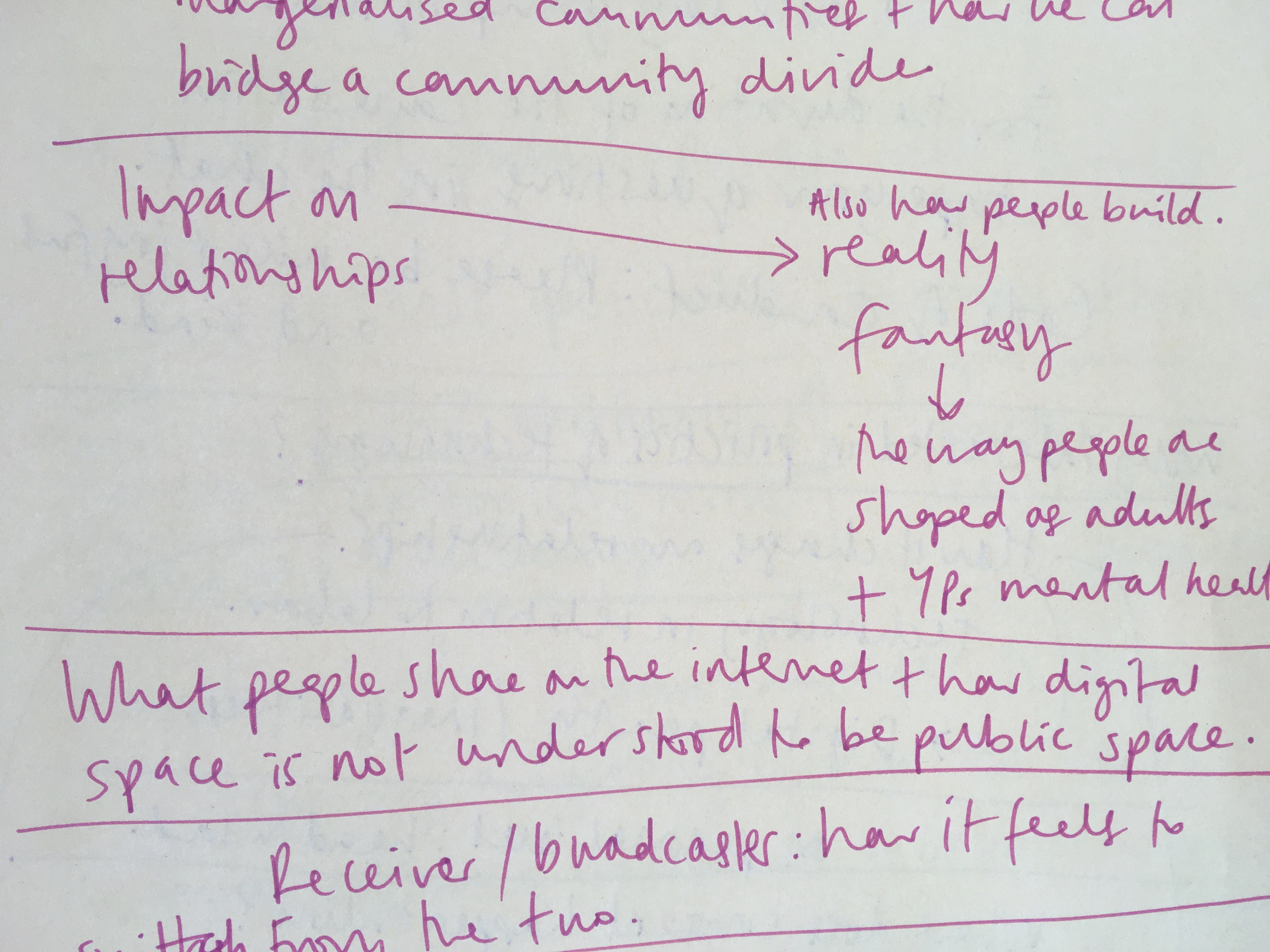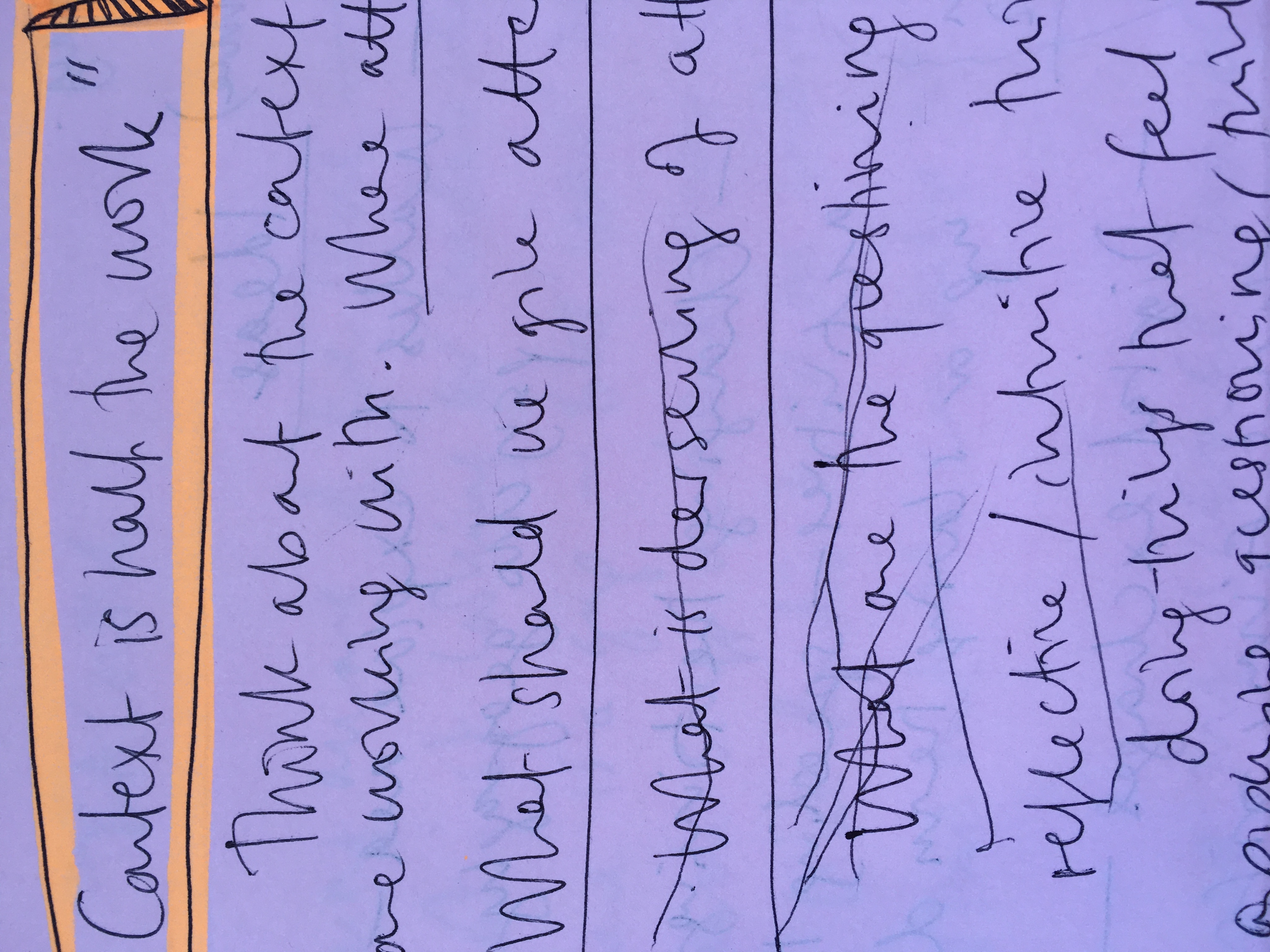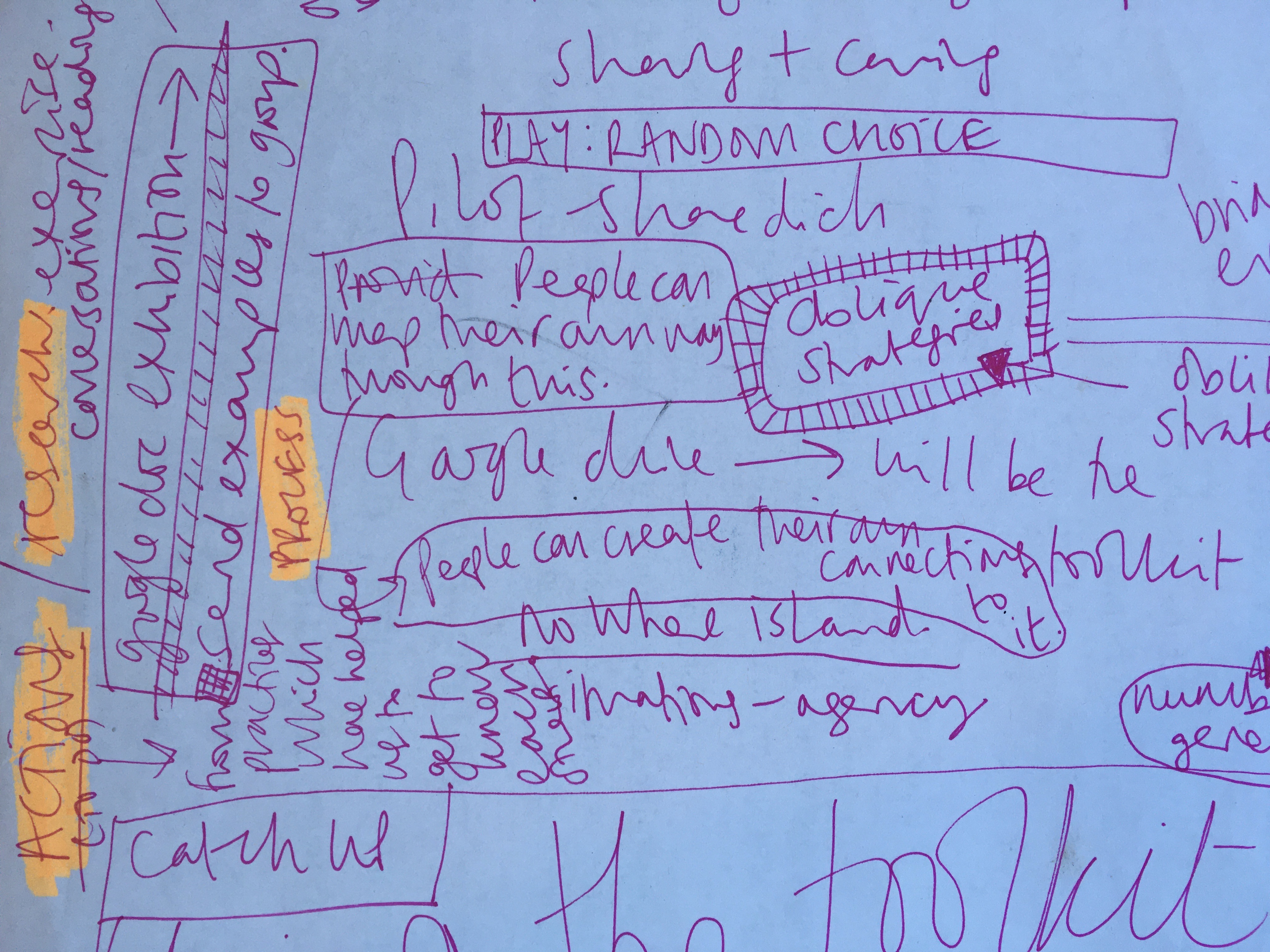 working out

Throughout our meandering conversations, we had touched upon points of connectivity - politics of care, care as something that is often talked about but not actualised, rest as an act of radical self care and the value or (un)value of productivity. We considered the subverted use of tools - such as the Blue Jeans video sharing platform we were using - as places for creativity rather than 'work'. How could we turn this labour into something that replenished us?

We talked about the fact we had never met physically and the difference this made to building our relationships, the inability to have one-to-one conversations, the way a group can feel like an 'audience' on screen - how much harder you have to work to project / read unspoken body language.

Additionally, we were all living through a particular moment together, the third UK lockdown, mid-winter, a time of low energy and emotional exhaustion, which effected us all at different points in terms of how much we could give.

The desire to spend more intimate time with each other: to rest, reflect and care was what led to the creation of the 'Sleepover' as our final collaborative artwork. Taking place overnight on Saturday 20th March 2021 and including (in some way) all nine artists from the group, we took part in the following activities:


Sleepover as a site of care politics, a promiscuous kinship.

Deliveroulette:
Collect the delivery address and dietry requirements of your recipient. Gift them a take away from the Deliveroo app to arrive at their home for 7pm.

Radical Cocktail:


"My proposed activity is 'radical cocktails' which the recipe is based on socio/political/historical context or any agenda. You can combine any drinks and it doesn't have to contain alcohol. Think of the story / agenda in your mind at the moment and bring drinks related to that."

Moving Together:

A viewing of an interactive heart installation, a collaborative playlist and instructions for moving. Considering the shifting energy at different times of the day.

Writing Rituals:

Taking inspiration from full moon / half moon reflections: write down ten things to let go of, that no longer serve you. Dispose of these in a way that suits you - burn, tear or scatter.

Labour of Love:

For the sleepover I would like to give you a pampering! Please gather the following ingredients and bring them to the sleepover:
Whilst enjoying our facemasks, we will listen to audio soundtracks selected from the 'Hard Work' section of the British Library Archive:
At the coal face
In the tunnel

Full wagon winched

Coal screening plant

Coal falls down shute
Conversations on Care:
Listening to a conversation with a nurse who has just completed a hospital night shift.
Collecting Worry:
We completed the evening by sharing our worries with each other, both our individual worries and our worries for the world. We typed these into the chat box in silence. We then chose another person's worry, wrote it on a piece of paper, folded it, drew a happy face on the outside and then placed it under our pillows before sleep.
Artists:
Adam Moore
Hussina Raja
Lady Kitt
Niki Colclough
Mark Bleakley
Sophie Seita
Tom Pope
Winnie Herbstein
Youngsook Choi
There are plans in progress to share some of this work in a public event at Flat Time House, later in 2021. Further details to follow.
About the programme:
Constellations  supports artists to develop their practice, collaborate with others, and access new networks. The programme places a strong focus on ideas of co-authoring and self-organising and addresses the importance of collaboration in moments of crisis and the key role arts and culture can play in facilitating social cooperation. This year's iteration also considers the digital realm as a platform for collaboration, engagement, and exchange as a result of the COVID-19 pandemic with workshops taking place both online and offline.

Running between July 2020  and  February  2021, the programme will explore different approaches to artistic research and collaborative practice through  eight  self-led sessions (including one session facilitated by  Constellations  alumna Beverley Bennett)  and five workshops led by Larisa Blazic,  Languid Hands (Imani Robinson and Rabz Lansiquot), Paul Purgas, Stine Marie Jacobsen, and  Srećko Horvat.  Full details of the 2020–21 programme structure can be found here.

Constellations has been conceived by Flat Time House and UP Projects in response to an increasing need to support artists interested in working within socio-political contexts. This will be the third iteration of the programme. Drawing on the history of John Latham's house as a site for experimental art education where students, artists and the wider public can come together to test the boundaries of what is teachable and knowable, the programme builds on the legacy of Latham's work as a founder member of the Artist Placement Group, a pioneering organisation in the history of socially engaged practice initiated in 1966 by Barbara Steveni.